BOOK REVIEW: 'The War on Guns: Arming Yourself Against Gun Control Lies'
By Joseph Greenlee - - Monday, August 29, 2016
THE WAR ON GUNS: ARMING YOURSELF AGAINST GUN CONTROL LIES
By John R. Lott Jr.
Regnery Publishing, $27.99, 256 pages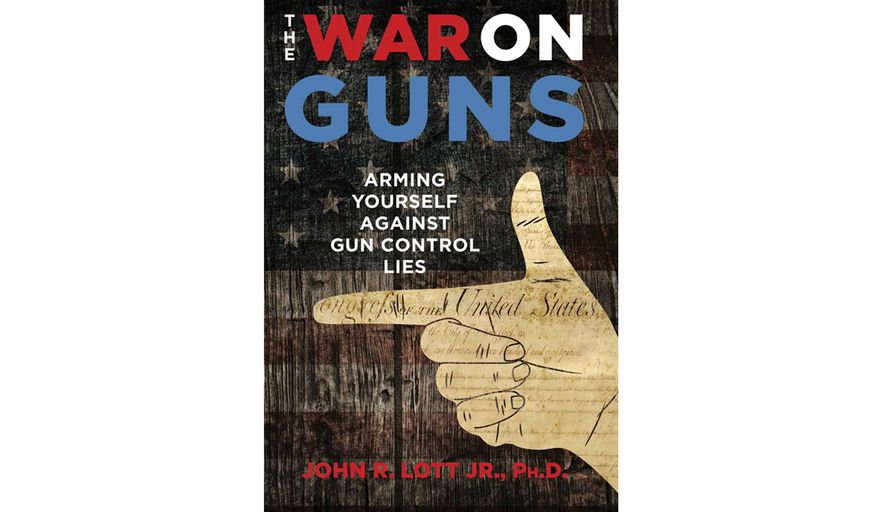 In his new book, "The War on Guns: Arming Yourself Against Gun Control Lies," John Lott methodically dismantles one popular gun-control myth after another.
It has been said that a lie told often enough becomes the truth, and a similar phenomenon is overwhelming the gun debate in America. Oft-repeated untruths have formed common beliefs that often sway the debate about firearms. Gun-control advocates have learned that their exaggerated claims are likely to go unchecked by a largely sympathetic media, allowing them to control the narrative and shape public opinion.
What is more, as Mr. Lott explains, billionaire elitists like George Soros and Michael Bloomberg are spending hundreds of millions of dollars lobbying legislators, funding conclusion-driven research, developing "grass-roots" organizations, and literally training reporters to cover gun control issues the way they want them covered; the purpose being to negatively distort the public's view of firearms so that there is less resistance when gun rights are taken away. There is an astonishing amount of money being poured into the gun-control movement, and the success of the movement will ultimately depend on how the public perceives the issues - meaning that facts are now more important than ever.
Thankfully, Mr. Lott has set the record straight in "The War on Guns." In his usual methodical style, he answers the baseless rhetoric and hyperbole of gun-control advocates with facts and statistics. And better yet, in addition to providing an abundance of tables and graphs, Mr. Lott states his case in a way that is easy to comprehend so that the reader, too, can start setting the record straight when confronted with misinformation.
The following are among the many common claims that Mr. Lott thoroughly debunks:
Mass shootings just don't happen in other "civilized" countries with the same frequency;
More guns equal more crime and more death;
Universal background checks reduce crime;
Congress has banned firearms research;
Gun registration helps law enforcement solve crimes;
Australia sets a positive gun control model;
Gun-free zones prevent (rather than attract) mass shootings;
"Assault weapon" and "large-capacity magazine" bans reduce crime and reduce fatalities in mass shootings;
Armed citizens never prevent mass shootings.
In rejecting these claims (and many others), Mr. Lott relies on scrupulous research and extensive data. The gun debate is too frequently driven by emotion, which often leads to feel-good legislation that is ineffective, unenforceable, and in many cases would not even stop the type of crime it is enacted in response to. While emotion sometimes wins out regardless, it is best to argue positions substantiated by statistics, data and real life experiences, and that is what "The War on Guns" offers.

Conversely, most of the gun control claims Mr. Lott disproves are entirely unsubstantiated. Further, he exposes studies that do support these claims as flawed and unreliable - most often, the researchers appear to manipulate or omit data in order to reach their desired result. Mr. Lott takes a fairer approach: He discloses his data, details his methods, responds to critics, and welcomes debate. Mr. Lott's transparency, objectivity, and his eagerness to defend his research ensure reliable results, and increase the persuasiveness of his positions. Disappointingly, though, he reveals that it is the defective studies that get the vast majority of media attention, likely because they offer the anti-gun results the media want to report.

But this only reinforces the need for the book. Gun-control groups are spending a fortune to manipulate studies, manipulate the news, and thereby manipulate public opinion. The strongest resistance is one based on facts and evidence, which are amply provided in "The War on Guns."

"The War on Guns" will not make experts out of its readers; it is a relatively quick read and does not examine any individual topic in great depth. But that is not its purpose. Rather, it is intended to provide readers with basic knowledge of a wide range of common gun control issues, so they can rebut misinformation when confronted with it; and it does precisely that.

Throughout this election season and well beyond, gun control is certain to remain among the most controversial and hotly debated issues facing our country. Mr. Lott provides an invaluable service to proponents of gun rights by providing statistical proof that their policies are superior to others being proposed. But perhaps the greater service is to undecided Americans aiming to look beyond empty rhetoric and tired talking points to develop their own informed opinions based on legitimate facts and data. "The War on Guns" provides them the opportunity to do so.

Regardless of the reader's view or knowledge of firearms, he will be better educated after reading "The War on Guns." For that reason, anyone with any interest in firearms policy should read this book.
Joseph Greenlee is an author and attorney in the Colorado mountains, with a special interest in firearms law.
Editorial Review